The history of Uni-Seco Structures - guest blog post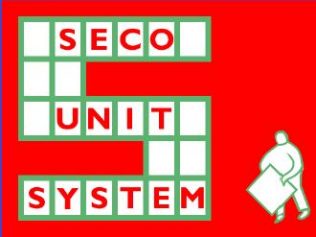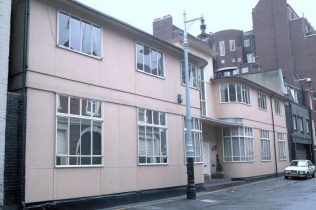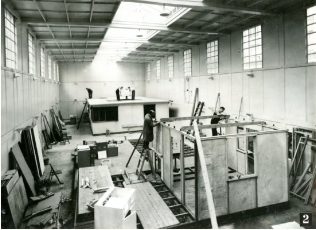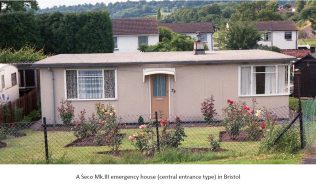 Our thanks to Paul Francis from the Airfield Research Group who contributed this report. Text and photographs copyright Paul Francis/ARG.
Early History
In February 1941, Bernard Brunton and Rolfe Gilbert Booth, both of 6 Woods Mews, Park Lane, London submitted applications 1821/41 for a patent in support of their invention with regard to wall and roof panels for huts. In January 1942 the two inventors submitted a further two designs 9144/42 and 745/42 this time for patents in support for their invention of a prefabricated building having hollow box-like beam members that are supported on the upper edges of the exterior walls. The walls being constructed of timber frame clad with asbestos sheeting and the void filled with insulation material. It is believed that the applications were made before Selection Engineering and Uni-Seco Structures Ltd had been registered as companies. The design which incorporated all aspects of the above applications became Seco Mk.I System of unit construction.
The name 'Seco' originates from the initials of Selection Engineering Co Ltd which was responsible for the design and development of the Seco Unit System of Construction.
The company therefore functioned as a design, research and development practice based in London with a supporting network of 26 manufacturing centres spread out all over the UK. These were organised on a franchise basis and over 200 construction firms were available to erect the buildings. Flat-packed huts and dwellings were taken from the manufacturing centres by rail and stored at regional depots, awaiting distribution to where ever they were required. Staff employed in the London offices were experienced architects, chemists and engineers. The head office was at 6 Woods Mews which was also part of 25 Upper Brook Street (also used by the company), Mayfair London. During the Second World War, the company erected a two-storey laboratory and offices at nearby at 12-16 Wood Mews, on a blitzed site – this was demolished in the early 1990s when a large part of Woods Mews was redeveloped.
The directors in September 1942 were as follows:
Chairman: G Wigham Richardson
MD: Bernard Brunton
Secretary: BP Hughes Preston
Technical Consultant: RG Booth, ARIBA
Contracts Manager: ABR Cheek
Director: R Lucraft
Seco Mks I and II
It is unknown when Uni-Seco Structures commenced trading, but by September 1942, they had already organised the manufacture and supply of component parts for both Mk.I and Mk.II huts and had issued memos to contractors requesting that they take care in assembling them, as the huts might be required for the post-war housing shortage. At the same time the company Selection Construction Co Ltd had a staff of trained erectors and supervisors on hand should they be required to advise contractors.
The company therefore marketed their buildings as the Seco Unit System and this technology caught the attention at an early stage of the new Ministry of Works who sponsored the design and development, this success led to large contracts with the Air Ministry for Seco Mk.I and Mk.II systems. The Mk.II design was covered by patent applications 1821/41, 5595/41 and 745/42. Broadly the design consisted of the following:
wall and roof (these had a rigid insulating core of wood wool bonded with cement and faced on both sides with flat asbestos sheets and enclosed on all four sides by a light timber frame)
'Aero' beams, columns and eaves-pieces (made from resin-bonded plywood that are hollow structures capable of supporting heavy loads)
component parts (made from light timber sections – roof spars, cross ties, keel-plates and door frame units).
Assembly required a minimum of labour, buildings were erected dry, all screw holes were pre-drilled in the factory. A typical Air Ministry Mk.I (60ft by 19ft 7in) hut weighed less than 8-tons. Roof loads of the smaller huts were carried by internal partitions called Cellular Construction and this arrangement was also suitable for small post-war domestic houses (Seco Mk.III). Larger span buildings were based on 'Aero' beam and columns to create open-plan internal arrangements, for use as canteens, hospital wards etc. Clear spans were available between nominal dimensions of between 19ft 7in and 35ft. During the war period, the Ministry of Works and Planning, Lambeth Bridge House, London supplied all drawings to contractors.
Seco Mk.III Emergency Temporary Bungalow
In 1944, the company submitted plans for small detached two-bedroom (23ft by 19ft 7in), based on their Mk.I hut for London's blitzed sites. The kitchen and living room arranged as a single room. There was also a semi-detached WC and fuel store that served a pair of dwellings. No bathroom was provided.
For the Government's Temporary Housing Programme, the company designed a small detached two-bedroom bungalow that featured the same back-to-back kitchen and bathroom service units for all emergency housing types such as the aluminium B1 / B2 types and the Arcon Mk.V bungalow. The units were made from pressed steel to a design thought to have been associated with the company Fisher Ludlow Ltd of Birmingham who along with its inventor, had submitted an application for a patent in support of the demountable kitchen / bathroom service unit (6444/43) in April 1943. This was to the design of Edric Neel, ARIBA of 52 Grosvenor Gardens, London SW1. It is believed that this design was adopted by the Ministry of Works as the standard emergency house demountable service unit. There were two variations one for the England and Wales and another for Scotland.
The Uni-Seco Mk.III temporary house was the third most common type of the programme with 29,000 built. It was based on a system of standardised posts, beams and panels assembled on a grid pattern. The principal materials used were timber, asbestos-cement and wood wool. Posts of box section were erected at 12ft centres and these connected with built-up timber and asbestos-cement roof beams. These were sloped on top to give a series of low-pitch trusses which in turn were connected together by purlins and these carried the roof slabs covered by roofing felt. Wall cladding used similar slabs to those on the roof, except where steel window units were fitted. There were two version, one with a central entrance and the other with a corner entrance, they were both Mk.IIIs.
Seco Mk. IV to Mk.VII
These were all two-storey perspective permanent houses, type Mk.IV was a minimal cost house and types Mk.V to Mk.VII being designed around the 'Secoframe' system of construction. It is unknown whether any of these buildings were ever constructed.
Seco Mk.VIII
In the early 1950s the company name changed to Selection Engineering Co Ltd, the address changed to 11 Upper Brook Street, before moving to 26 Margaret Street, London and the company rebranded itself as the Selection Construction Company Limited (the Uni part of Uni-Seco name had by now disappeared), and around 1958, it relocated to 14 Bloomsbury Square.
Most of the company's inventions were the work of Bernard Brunton, but his name disappears from the company patents submitted after 1956 and replaced by William Andrew Balmain, Ronald Gordon Emsley and Henry Charles Frederick Giddings-Green.
The Seco Mk.VIII system of permanent construction combined four different methods of building, designed to provide economical permanent buildings to suit a wide variety of needs such as schools, offices, factories, hospitals and barracks. All four were based on a 3ft 4in planning grid and all components are made in a factory. Walls and roof of all four systems were formed of Seco panels. The four types were as follows:
single storey cellular construction
single storey plywood framed construction
single storey steel framed construction
multi-storey steel framed construction.
The design provided for a standard clear floor to ceiling height of up to 10ft and a max span of 26ft 8in for floor beams and 40ft for roof beams (eaves protected 1ft from the external walls). The stanchions were centred on the intersections of the grid lines allowing the whole framework to be modular, conforming with the 3ft 4in plan grid. External walls were placed 3in outside the grid, but internal partitions occurred on the grid lines, or at intermediate positions. At this time the company trade names included the following:
Seco wall panels – for curtain walling and cladding. 16 types of finishes available
Seodek – roof decking, up to 15 ft wide
Secolith – paper-faced roof decking and building slabs
Secospan – roof system – spans up to 40ft
Seco steel frame – single and multi-storey
Seco beams – beams and columns in plywood, timber and steel
The Air Ministry purchased several Mk.VIII buildings, with a small version erected at Lakenheath, two large 'Z' form barrack blocks at Little Rissington and six 'Z' form barrack blocks at Sculthorpe.
Secometric Limited
Yet another company, Secometric Limited was founded on 15 August 1947, with a manufacturing facility at Wickford, Essex, in January 1980, the firm was bought by the Wernick company of Billericay, who closed their factory and move its staff to Wickford, this purchase gave Wernicks a design and build concept of modular buildings. The Secometric and all other company names are now dormant.
Source: (ARGL Archive)
Architect's Journal, 11-05-1944, 15-06-1944 and 26-10-44
Seco System of Construction
Seco in War and Piece
Seco Mk.III Construction (design in Seco)
Patent Applications
1821/41: Improvements in slabs or blocks for building
9144/42: Improvements in or relating to roof support for dwelling houses 20-01-1942
5385/42: Improvements relating to joints in walls and roof 22-04-1942
745/42: Improvements to the construction of panels in buildings 19-01-1943
6544/43: Improvements relation to dwelling houses 23-04-1943
24277/50: Improvements relating to roof construction
24278/50: Improvements to the construction of wall and roof panels 04-10-1950
24276/50: Improvements in or relating to building structures 04-10-1953
6079/51 and 6080/51: Building structures 10-06-1953
25881/51: Improvements in or relating to building structures 30-09-1953
22107/52:Improvements in or relating to building structures 21-09-1952
23761/52: Improvements in or relating to building structures 22-09-1953
23760/52: Improvements relating to building structures
1152/54: Building panels 18-02-1955
26715/54: Prefabricated building panel 17-10-1956
Notes on the construction of the Seco Mk3 central entrance prefab can be viewed here
A copy of the Seco System of Construction can be viewed here
NB The patent was carried to Brazil, where Uni-seco do Brasil was founded, and about 80 buildings were made, adapted to local materials. Thanks to Roberto for the information (in the comments)