Crown Copyright Ordnance Survey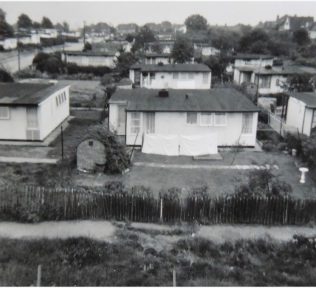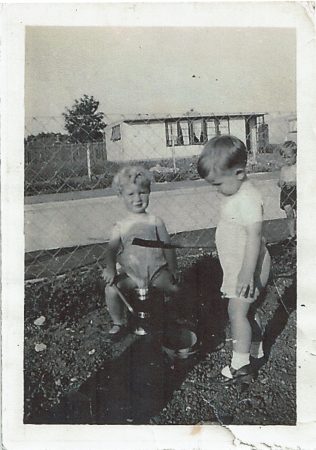 Christine and Peter Bedell
The prefab location map started life at the temporary museum. We carefully mapped the prefabs people told us about in the visitors' book and from the flags stuck in our map on to Google My Map. The map can be viewed at the foot of this page or on this link.
Thanks to eagle-eyed prefab scouts and people who live or lived in them, over 150,000  have been identified! The markers are for prefabs still lived in, demolished and in museums, with special sections for permanent prefabs, Swedish houses and LCC mobile homes.
Every week people tell the Prefab Museum about prefab locations; to prefabs still lived in or long demolished, on farms, used as storage, catteries, as holiday homes or clubrooms, even two made into a pub, and links to community archives or Facebook groups. A marker is put on the map and where they have a history, a photo or memory attached it makes them come alive. If your prefab is not on the map, please let me know!
As part of the project the Moving Prefab Museum and Archive we aimed to make the map even better, with more stories, photos and links. I hope you enjoy its new look, if you have visited the map before. Many local, regional and national archives are being digitised and made available online. Can you help find information about prefabs through these and other resources to enrich the Prefab Museum's collective knowledge, or do you know of prefabs still lived in, in your area? Please contact via email at prefabmuseum@gmail.com
Where does the information come from? The National Library of Scotland's excellent OS London/TQ 1:1,250/1:2,500 maps of London and the south east 1947-64 overlaid on modern maps, and old-maps.co.uk (now defunct subscription service). If you identify prefab locations (roads and streets, villages and towns, boroughs or postcodes) I can generally find them using the NLS maps above. Prefabs on these maps are very distinctive, and in some cases I can identify the type of prefab by the shape. [Please note the Prefab Museum records the original number of prefabs from old maps, and cannot guarantee that the links in some of the markers will still be active.]
Very useful resources include Britain From Above,  digitised aerial images from the Aerofilms collection from 1919-2006, and Historic England's collection of over 400,000 digitised aerial photos.
Tips for searching
The best results are achieved by using View Larger Map. In London, searching on the postcode SW11 rather than Battersea will return more results. Outside London the city, town or village name is recorded. All verified locations across the UK contain the first part of the postcode. If you click on the old maps links, zooming in will help you see the map in detail. For more information read about mapping the prefabs.
Recent discoveries!
100 re-clad Arcons in Lincoln.
2, possibly 3, AIROH aluminium bungalows in North Yorkshire. We visited them!
A Universal behind the Mazda garage and several Arcons on a farm in or near Southampton.
There has been a fantastic response to our call for Swedish timber prefab houses and bungalows, from Somerset to Orkney. See the post Swedish Houses – location list. We have also been notified of Finnish timber houses, erected by the Forestry Commission.
If you spot any prefabs on your travels, let us know!
A Uni-Seco prefab on the Kent and East Sussex Railway. We were subsequently offered it!
Prefabs in Lewes, Rustington, Eastbourne and Brighton, plus a link to prefab photos in the James Gray collection, the photographic archive of the Regency Society. Thanks to Martin for all the links, via email!
A Swedish timber prefab and Tarran prefab opposite each other, in Stoneleigh, Warwickshire. The Swedish prefab is still lived in, the Tarran has become a changing room. Thanks to Adrian for the photos and information via Facebook.
Arcon Mk V prefab still up and lived in, in Aylsham Norfolk. Prefabs in Hopwood, Birmingham, still up and lived in.
A UK100 in Baldock, Hertfordshire. Tom has written a short history of the American prefab he has lived in since 1982.