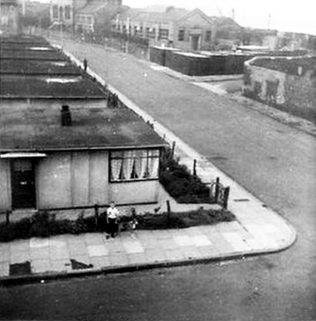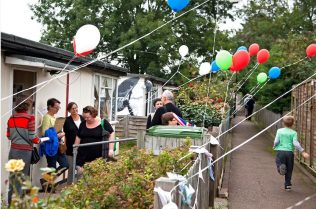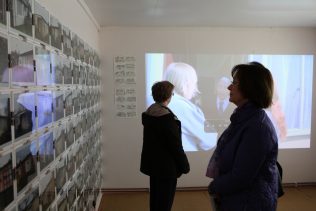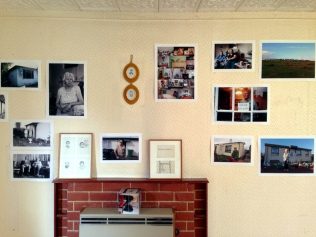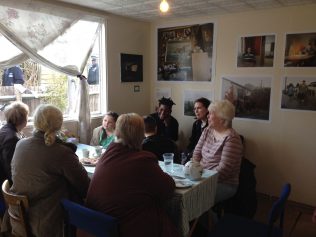 The Prefab Museum was inspired by photo-journalist Elisabeth Blanchet's passion for and documentation of post-war prefabs and their residents in the UK since 2002.
Elisabeth began by documenting prefabs in Peckham, south London, and then all over the UK.  An exhibition in 2013 at Photofusion in Brixton, accompanied by walking tours and archive tea parties, culminated in the creation of an Arts Council funded temporary museum for the month of March 2014. The museum was sited in a vacant prefab on Excalibur, at that time the largest estate of prefabs remaining in the UK, in Catford, south London. Together with community development worker Jane Hearn, who had documented the prefabs and lives of residents on the estate as part of several community projects, The Prefab Museum partnership was formed.
The Prefab Museum was so popular during the first month that Elisabeth and Jane extended it, relying on visitor donations, volunteers and goodwill to keep it going. During the museum's seven months' residency from March – October 2014 we ran a programme of activities and events. Volunteers came from the estate community, exhibiting artists, and people who offered to volunteer following a guided tour or visit. Elisabeth and Jane worked with local community groups and schools, and were visited by history and reminiscence societies and interest groups from across the UK. The Prefab Museum was featured in Open House London and in total over 4,000 visitors came to the museum between March and October 2014.
Closed following an arson attack at the museum in October 2014, the Prefab Museum remains online via our website and social media, and we give illustrated talks about prefabs. Thanks to the enthusiasm of our supporters for keeping us going, in person, via email, on Facebook, and on Twitter. Please contact us if you would like us to come and talk to your group or society
In May 2016 we were fortunate to be awarded support for our project The Moving Prefab Museum and Archive from the Heritage Lottery Fund. You can read about our adventures on our blog posts, taking the Moving Prefab Museum across the UK and collecting, recording and documenting the prefabs archive, telling the story of post-war prefabs.
Welcome to the prefabulous world of post-war prefabs! We hope you enjoy our website, and reading our blog posts. As new information comes in, we regularly update the site.
Elisabeth resigned from the Prefab Museum in February to pursue her love of all things prefab in France, where she lives. Thanks to Elisabeth for her work in bringing post-war prefabs to national attention and we wish her luck in the future.