Moving Prefab exploration - a prefab in south London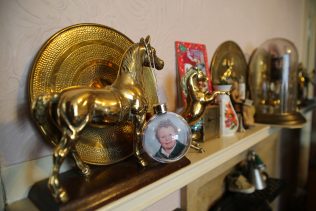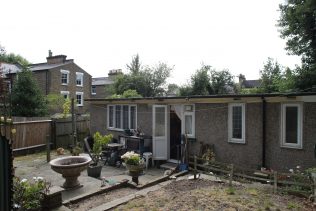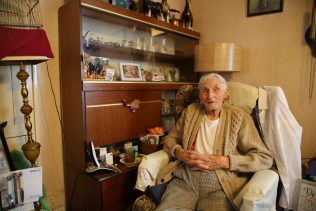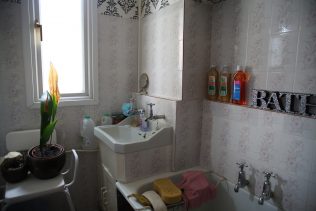 A lovely morning with John De'Ath, prefab resident in Brockley, South London
For the last year, Jane and I have been passing John's very well preserved prefab on Drakefell Road once a month while taking enthusiasts on a Brockley-Nunhead prefab tour. Although we did spend a certain amount of time admiring John's prefab from the outside – sometimes even giving sneaky looks through the garden gate … -, we never found the time to properly go and knock on John's door. 
A few weeks ago, Jane finally met him and had a wonderful time with him, talking about his prefab memories, Deptford where he was originally from and all sorts of things. John invited Jane to come back and I couldn't resist to come along. We were welcomed by the energetic barking of John's little dog Elly, followed by John, a very elegant 92 years old English man who offered us tea, biscuits, sweets and cakes! We instantly felt cosy and home at John's cherished uni-seco. Only Elly was obviously jealous by so much attention drawn at us. It was almost like she exactly knew when to bark to ruin the interview. 
 After many stratagems, we managed to keep Elly outside, in the prefab's garden, where she had all the space to bark and calm down from her jealousy crisis. Then, John started to talk, he told us how he got his prefab in 1948 – which probably makes him one of the oldest prefab dwellers in the UK -, after he came back from the war and had lost his wife. Born of a family of 14 children in Deptford near to the Palace Cinema in Hyde Street, he told us funny childhood memories and talked about his passion for horses and many other things we filmed and recorded… till he got worried about Elly escaping! "She's done it before!", he told us. I had to let her back in. She quickly took over John's prefab which is packed with knick-knacks, furniture, photos, memories and sweets living-room. Of course, she hated us even more than when we arrived! Luckily John's granddaughter and her son arrived, and kept Elly in the kitchen while she prepared John's lunch and… Elly's!
Elisabeth
Photos by Elisabeth Blanchet