Mapping Britain's post-war prefabs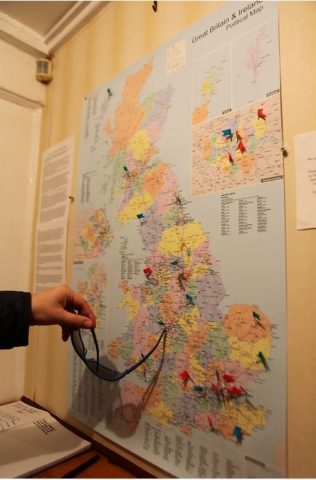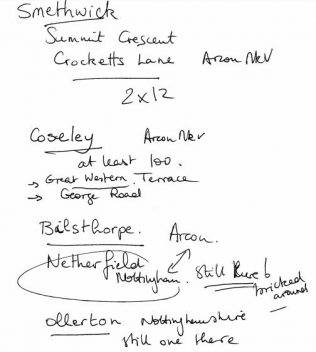 Crown Copyright Ordnance Survey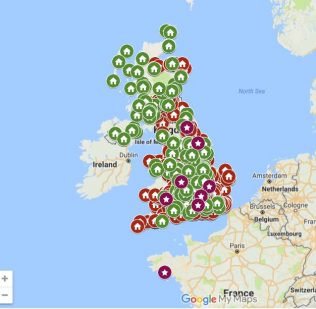 I started plotting the online prefab locations map nearly eight years ago, a couple of months after we closed the Prefab Museum in Catford in November 2014.
The physical map on the wall in the hallway was smoke damaged and I had to rely on photos we had taken of it, entries in the visitors' book, emails and Facebook posts. Some information was very specific, with street names and numbers (even descriptions of neighbours, and their pets!) others less so. After the museum closed we continued to receive locations and descriptions and it seemed appropriate to record them in one place that could be accessed by everyone with a connection to the internet.
156,623 prefabs were erected across the UK. From imported American and Swedish prefabs to the prefabs manufactured for the Temporary Housing Programme (Emergency Factory Made Homes), they turn up in the most and least likely of places. How they were distributed is easy, where they all ended up is trickier!
The Government commissioned the manufacture of, and owned, the prefabs. Local authorities applied for the number of prefabs they required, and were tasked to acquire and prepare the sites to receive them. To aid them, local authorities were given compulsory purchase powers to acquire land and empty homes. This proved difficult in some cases, and a clause was added to the Temporary Housing Programme to site prefabs on parks and open spaces for a limited length of time. Local authorities managed the allocations, collected the rents, and were paid an annual maintenance grant for 10 years after which they were given the option to purchase the prefabs.
Bombing destroyed good housing along with the bad, and some local authorities had already made plans for council housing before the Second World War intervened. Other authorities had seen their population increase by evacuees. Across the UK from the Outer Hebrides to the Isle of Wight, there was an acute shortage of homes. The result is a patchwork of distribution across the UK, from mega-prefab estates like Belle Vale in Liverpool, Shrublands in Norfolk and Harold Hill in Essex, to one or two prefabs shoe-horned on to a bomb site or empty space.
Looking at the old maps provides a window into the past of how industrialised the big cities were and how rural and undeveloped the countryside was, less than 70 years ago. They paint vivid pictures of how we lived then, our proximity to and distance from our places of work and leisure.
Sources and resources
I discovered the National Library of Scotland historic Ordnance Survey maps, particularly the London/TQ, 1:1.250/1:2500 1947-64 series which covers Greater London and parts of Kent, Essex, Surrey and Sussex. This fantastic project to overlay historic maps of the UK on a current Bing map is now being jointly developed with other map archives such as Bristol's Know Your Place. These fine, free resources were supplemented by a monthly subscription to old-maps.co.uk, which covers the whole of the UK at various scales. Sadly this site was acquired and the maps are no longer available for love or money.
Prefab bungalows are very distinctive shapes and it is often possible to determine what type of prefabs they are. This example shows American UK100 prefabs on Clement Road in Willesden, London. How do we know this? Irene Ottaway, who lived in a Clement Road prefab, contacted us with photos and memories  of her UK100 prefab!
A further source of information is Britain From Above, a project to digitise 95,000 Aerofilms aerial images taken from from 1919 to 2006. Prefabs can be identified on these photos and I have been adding a link to the map marker when I locate them. They are quite distinctive as they appear as bright objects on the black and white photos. You need to register on the Britain From Above website in order to zoom in and see the marker comments.
I credit contributors to the map locations and add links to further information, memories and photos if we have them. I would like to thank all the prefab 'scouts' who have supplied multiple locations on the map – please keep them coming!
The changing streetscape
Roads and streets come and go, particularly during the slum clearance programmes of the 1960s and 70s, to be replaced by new estates of housing and light industrial, commercial or retail parks, and road schemes. In London, there were prefabs before the Westway in North Kensington, the Westfield Shopping Malls in both Shepherds Bush and Stratford and the Blackwall Tunnel northern and southern approaches. Some of the prefab sites, which replaced bombed houses and factories, were themselves replaced with parks and open spaces, like Mile End and Shoreditch Parks. Sometimes the roads and streets were given new names, others disappeared for good.
Cross referencing and verifying.
There would be little point in mapping the UK prefabs without cross referencing and verification. A Google Search containing the words 'prefabs' and 'Lincoln' for example, can return links to various sources of information including local community archives and history society publications, photos and research as well as other locations. A good source of prefab memories is The Francis Frith Archive founded by Francis Frith, the pioneer Victorian photographer. Visitors to the site are invited to contribute their memories.
From the visitor memories, the name of a road or area can lead to a precise location, and verification on the old maps. If the maps are at 1:10,560 it is harder to identify the prefabs individually.
Since it was first published online the map has been viewed over 60,000 times and is the most popular page on the website. Conversely when you now search for 'prefabs' and 'Lincoln' it points to the Prefab Museum map and website. When people email to ask why their prefab is not on the map, it leads  to another new location. Sometimes the information is accompanied by memories and photos which help to enrich and illustrate the location. When a location is verified, the first part of the postcode is added.
The map has been augmented by the resources at Britain From Above and Historic England's digital archive of aerial photos from 1946-9
The future
If you have any suggestions as to how I can make the map better please let me know by emailing prefabmuseum@gmail.com , or through the Facebook page Prefabs – Palaces for the People, or coming to events in 2023 at The Friends of the Island History Trust in Isle of Dogs, London,  and telling me in person!
Jane
January 2020