An American prefab in Hertfordshire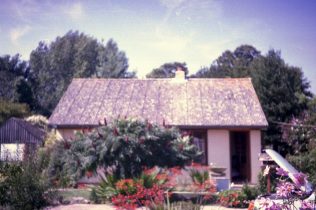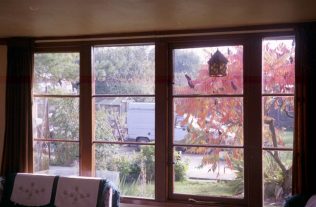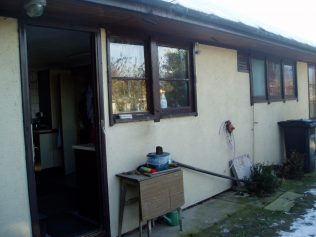 In December Tom contacted the Prefab Museum to tell us about the American UK100 prefab he has lived in since 1982.
Tom believes it to be the last lived-in UK100 in the UK. He sent some photos and a short history of the prefab.
In Tom's words
Our prefab was put on site in 1956. It was moved from W11 U.S Airfield Nuthampstead. The person who had it moved had lost her parents and home in the North Sea Floods of 1953. She moved into a home in 1981 and we bought it in 1982, it was all original then but the exterior walls were showing their age, they were a type of fibre board. I replaced with chipboard and removed the windows on the west end wall that were partly rotten, replacing the main bedroom one, moved living room and kitchen walls out to enlarge both, the front and back doors then on corners of building. In 1988 changed chipboard walls, reinforced the framework, insulated, water proof membrane, expanded metal and sand cement render, plaster boarded to internal walls and ceilings and skim. later installed oil fired central heating. After thirty five years here, I think it could be said it has grown on us.