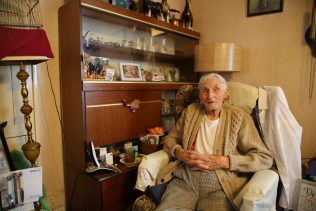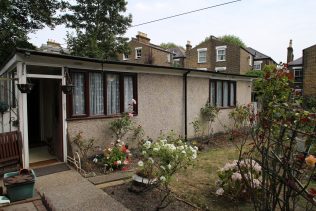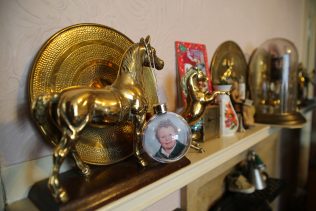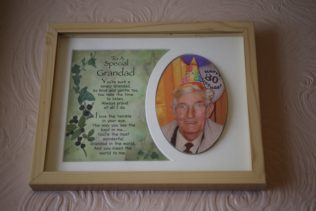 We were sad to learn, from his granddaughter Lorraine, that John De'Ath was in hospital when we took a group from Lee Women's Institute on a walk on 20th May which included a tour of his prefab garden. We learned later from Lorraine that her grandfather passed away on 22nd May 2017.
John moved into his prefab after he was discharged from the army in 1948, relocating from Deptford where he was born and grew up. The group of ten prefabs were erected following the first V1 doodlebug (FLY bomb) to fall in the London SE14 area at 06:50 on 23rd June 1944. It badly damaged 20 houses and caused further damage to houses in surrounding roads.
When we met him John told us of his life in Deptford, a mile or so away. It was fascinating to hear his stories of growing up there and the horses he befriended, stabled in the railway arches. It inspired in John a lifelong love of horses, and his prefab had lots of memorabilia including photos of the horses he later owned. John was very hospitable offering tea, biscuits, cakes and sweets on the two occasions we visited. His little dog Elly enthusiastically joined the conversation!
Over the years, the prefab residents moved out. John had bought his prefab, but eight lay empty until a self-build scheme was proposed on the site. Gradually some of the prefabs were demolished and the self builds started to take shape. Imogen, one of the self-builders, told us that they used several of the prefabs as site huts when they were building and she lived in one for a while. She recalled that she loved her brief time living in one – it was so well designed, and she still has some of the large drawers rescued from one of them which make good under bed storage boxes! The self-builders moved on to the site in 1997, and completed in 2001.
This little oasis in south London is now sadly empty of a long and rich life, and good neighbour. John De'Ath, it was a pleasure and privilege to meet you, to see inside your prefab, and to listen to your stories – thank you.
You can read Elisabeth's blog post about our visit to John and our interview with John here.
Jane and Elisabeth
Further reading
The website Flying Bombs and Rockets documents V1 FLY bombs (doodlebugs) and V2 rockets in south east London.
The Twitter account Doodlebugs & Rockets chronicles every V1 FLY bomb and V2 rocket from 13th June 1944 to their cessation on 28th March 1945.
Photographs by Elisabeth Blanchet and Jane Hearn