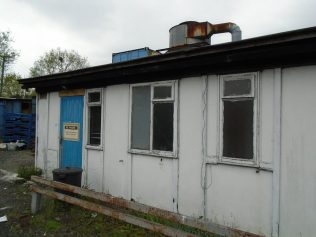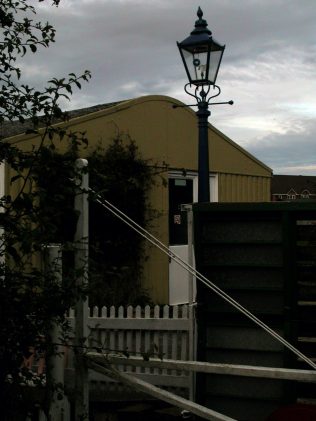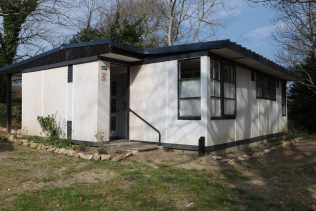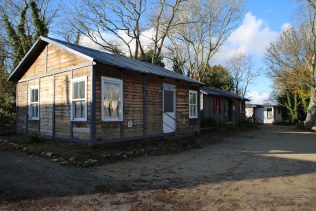 Every week people email us or tell us on Facebook and Twitter, and at our events, talks and walks, about prefabs still up and lived in. We put them on our map, look them up on the old maps, and go exploring to find out where they are and talk to residents if possible. We are invited to visit archives as well where we find sources of information and photographs which help enrich our prefabs knowledge!
Uni-Seco at the Kent and East Sussex Railway, April 2017
Prefab scout Chris emailed us a while back to tell us about a prefab he had spotted at the Kent and East Sussex Railway. We went to have a look in April while in Kent. The very friendly station staff and volunteers told us that the Uni-Seco had been there since the 1960s. We don't know where it came from originally, but it has been in continuous use and is now used as volunteer accommodation. It still has the original layout and fitted cupboards. We have written to the KSER to ask if they know more – watch this space!
Super scout Charles is always on the lookout for prefabs and spotted this Arcon MkV in the Isle of Wight.
The Chiltern Open Air Museum Archive, February 2017
Cathy and Hazel from the Chiltern Open Air Museum kindly invited us to visit their archive in February 2017. This beautiful museum is in the Chilterns near Chalfont St Giles, Buckinghamshire and is well worth a visit to see their historic buildings, including an original Universal prefab and Nissen Hut. The Universal was manufactured locally in Amersham. The prefab at the museum was relocated from the Finch Lane estate and has been carefully restored, opening to the public in 1994. In August 2017 the Moving Prefab was there for one of the museum's Terrific Tuesdays on the hottest day of the year. The archive visit unearthed treasures not just about the Universal and its reconstruction but other types of prefabs too.  There is a fascinating document detailing the progress of the prefabs on Finch Lane, from the beginning of the Temporary Housing (Emergency Factory Made Homes) programme in 1944 to completion in 1947 when the tenants moved in.
Baraques in Brittany and Normandy, France
Our friends at Mémoire de Soye in Ploemeur, Brittany, have been on the lookout for prefabs in France, many of them still inhabited. France had about the same amount of prefabs as the UK, mainly concentrated in the north, north-west and west of the country where bombing was most severe. In the grounds of an old chateau Association Mémoire de Soye have a delightful museum of 'baraques'. as prefabs are called in French, and have re-constructed three types: French, Canadian and American UK100. In March 2017, Elisabeth interviewed Malcolm and Liz, a British couple who bought a house in Carhaix, Brittany in 2010, not realising it was a prefab until they met her! Read Elisabeth's blog post A prefab 'entente cordiale'!
Silver End, Essex
On the way back from a prefabs talk in Bocking in October 2016 we stopped at Silver End, home of the Crittall factory and the model village created in the 1920s for the workers. Crittall not only had a connection with prefabs, as the metal framed windows were used in some of the prefab types, but also had prefabs too!
Swedish timber houses and permanent prefab bungalows
Exploring south Cambridgeshire, June 2016, we discovered two pairs of Swedish timber prefabs in Caxton, and Hawksley BL8 aluminium bungalows in Duxford and Sawston. Some of the Hawksleys have undergone improvements to insulation and had solar panels installed by South Cambridgeshire council. We talked to the lady who had lived in her Swedish prefab since 1959. Next door was up for sale. Residents in Sawston and Duxford told us about improvements to their prefabs, and one lady assured us that her Hawksley BL8 had been described by the council as an aluminium bungalow, not a prefab!
Read more about Swedish prefabs and where they are located.  You can read about the history of Hawksley on our guest blog post by Paul Francis of the Airfield Research Group. We visited their archive in Alconbury, Huntingdonshire, last year and were the last visitors in its current home, as the building is due to be demolished. On our travels we also discovered this British Concrete Federation hut, used as a wartime nursery and now a health clinic!