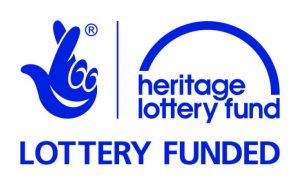 We invented the "Moving Prefab" concept after we lost – to a criminal fire – the physical Prefab Museum we had for seven months in an original post-war prefab in Catford, South London. Instead of prefab enthusiasts coming to us, we decided to go to them and to places linked to prefabs! We come with our prefab knowledge to give talks, run tours, organise events like archive tea parties, exhibitions… And we come to enrich our archive by collecting more documents, recording and filming prefab residents (or ex-residents) happy to share their stories with us, to train people in archiving and oral history and of course to meet like-prefab-minded people!
The Prefab Museum has been awarded support from the Heritage Lottery Fund for the project The Moving Prefab Museum and Archive, with events from May 2016 to December 2017. This exciting project brought the Prefab Museum to venues and museums across the UK where we collected stories, photos and memories for a national archive of prefabs! We would like to thank all the prefab enthusiasts who have been so encouraging and supportive and the network of prefab scouts who tell us about prefabs past and present!
Events 2017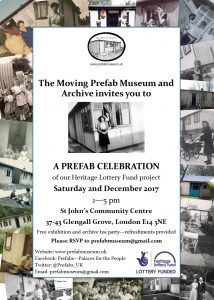 In May 2016 we embarked on our prefabs roadshow which marked 70 years of post-war prefabs. To find out more about the project, read the Moving Prefab Museum and Archive leaflet. You will be able to read, see, listen to and watch our prefab adventures and shared stories and photos on this site and in the Prefab Post quarterly newsletter, Issue 2 Issue 3 Issue 4 and Issue 5 are available to view and download below. We make regular and guest blog posts on prefab-related topics and welcome suggestions for articles and features in the Prefab Post. Our last heritage event for the project is on 2nd December and we hope to see many of you there. The venue is easy to get to, just 2 minutes walk from Crossharbour station on the Docklands Light Railway. Please let us know if you are coming so we have an idea of numbers (we don't want to run out of tea and cakes!) on prefabmuseum@gmail.com
In March 2017, Thomson Reuters Foundation published an article and video about the Prefab Museum and the Excalibur Estate: 'Palaces for the People' in peril despite UK prefab revival and the video on Youtube Palaces for the People – The Excalibur Estate
You can watch the video we made about the Moving Prefab project here. The Moving Prefab Museum and Archive Project 'What a lovely prefab!'
Prefab Post – the newsletter all about prefabs!
  This work is licensed under a Creative Commons Attribution-NonCommercial-ShareAlike 4.0 International License.